Alex Hales refunds £4.10 to unhappy Edgbaston fan
BIRMINGHAM: England opener Alex Hales has given a partial refund to a spectator who complained about the slow over-rate during the the ongoing third Test against Pakistan at Edgbaston.
Between them, England and Pakistan only managed to bowl 81 of a scheduled 90 overs on Friday's third day.
hy do you play a game for five days, US Consulate employees ask
The fault mainly lay with England, who fell behind the rate early on and left Pakistan with a marathon 44 overs to bowl in the day's final session by the time they had dismissed the tourists on the stroke of tea.
Unsurprisingly, Pakistan failed to get through all those overs before the scheduled 6:30pm (1730 GMT) cut-off time for close of play.
England's Stokes out of Pakistan Test series
Upset fan Alexis Fuller, who was in the Edgbaston crowd on Friday, contacted several England players to ask for a 10 percent refund after Michael Vaughan, the former England captain, pointed out that only 81 overs had been bowled.
https://twitter.com/MichaelVaughan/status/761616534569648128
"I want 10% of my money back," Fuller wrote. "Wouldn't go to football and find it ended after 80mins."
Hales, who was 50 not out at stumps, following an unbroken 120-run stand with England captain Alastair Cook, replied saying: "ok DM me your bank details I'll do it now".
England 120-0 against Pakistan at 3rd day close
Fuller after posted a picture on social media that appeared to show a payment of £4.10 from Hales into his account.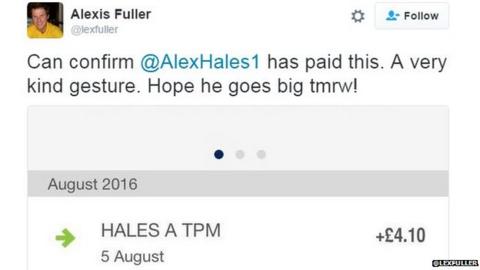 Fans attending Edgbaston on Saturday saw Hales bat for less than 10 percent of the day's play after he was out for 54 in the fifth over of the morning to leave England 126 for two in their second innings.
---
Original news : http://tribune.com.pk/story/1157006/alex-hales-refunds-4-10-unhappy-edgbaston-fan/